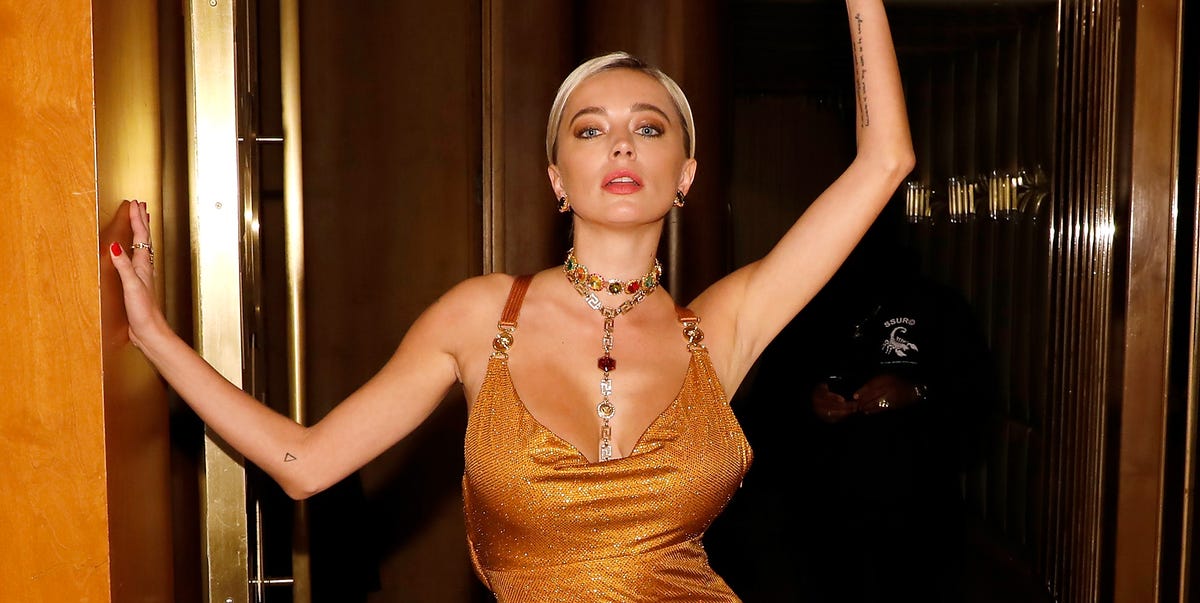 Though a full bust is enviable, that's not to say it doesn't come with some sartorial challenges. Finding the right necklines, fabrics, and silhouettes to complement your shape is not always an easy task, but once you do, it will be a total game changer. Using the right undergarments is also a very important tip, talking from experience. Find more style tips from celebrities, models, and influencers ahead.
1 Embrace the Wrap Silhouette
Whether in the form of a dress or jacket, a wrap silhouette complements every body type—and bust size.
2 Lulu Tie-Dyed Linen Wrap Dress
The tie dye dress might get you thinking about your next vacation. 
3 Latex Midi Wrap Dress
Ideal one for a night out. 
4 Striped Cotton Poplin Wrap Top
If you don't like button downs, opt for this button down inspired wrap top. 
5 Accentuate the Décolletage
Pick a top that makes your décolletage the focus. A sweetheart or an off-the-shoulder neckline is ideal to creating the ultimate tasteful, sexy look.
6 Tu Romancer Blouse
A off the shoulder v neck top is both flattering and flirty. Trying pairing with a skirt or jeans. 
7 Loretta Faille Midi Dress
No only will the neckline be flattering, but cinched waist will accentuate your waist. 
8 Henry Off-The-Shoulder Top
Butter yellow is always a good idea, especially in this shape. 
9 A Fitted Dress/Top Are Your Best Friend
Try dresses, tops, and bodysuits with spandex-like fabrics and knits that are fitted to the body; they won't add volume to your bust and will always give you an hourglass figure.
10 Ruched sleeveless dress
A close fitted dresses will always accentuate your curves. Pair this with a pair of heeled sandals.  
11 The Twist Thong Bodysuit
A close fitted bodysuit will always flatter your silhouette. 
12 Nina ribbed-knit midi dress
Kill two birds with one stone with this Khaite dress. The sweetheart neckline and its fitted cut are two of the most flattering elements for large busts.
13 Find the Perfect Fitted Button-Down
When it comes to a button-down blouse, take the time to find a fit that doesn't create gaps in between the buttons. If you have to, go up a size to make sure the buttons don't pull over your bosom.
14 Silk-satin blouse
A silk-satin blouse adds a touch of elegance to every look. 
15 Howard shirt bodysuit
A no-fuss and worry-less solution for a tucked in shirt is a shirt bodysuit.
16 Floral-print ladder-lace crepe blouse
The Chloe rendition of the button down has a fitted fit with an elongated collar. 
17 Have a Bare-Midriff Moment
Much like a corset belt, a bare midriff helps to create that hourglass figure—and draws attention to your waist.
18 Cache-coeur wraparound cardigan
Try this flattering Jacquemus crop top with high waisted bottoms.
19 PPRMINT™ seaweed fiber cropped t-shirt
A plain cropped tee might become your new go to. Try pairing them with some jeans or a skirt.  
20 Marcy tie-front floral-print linen shirt
A boxy crop top that has us longing for summer days. 
21 Cinch It at the Waist
Take note from Elizabeth Olsen and cinch your look at the waist with a corset or wide belt. Instant hourglass shape.
22 Belted Open Back Eco Vegan Leather Shirt
This beautiful vegan leather top, has a nice surprise back, it is cropped on the back and longer in the front, the belt helps accentuate your waist. 
23 Charlotte belted linen maxi dress
Nothing beats a maxi on a hot summer day! This Lisa Marie Fernandez dress neckline and belt makes it one of the most flattering ones, yet. 
24 Browns 50 camouflage belted shirt
Remember that belting your tops and dresses will give you an instant hourglass figure. 
25 Try a Cowl Neckline
Another flattering neckline to keep in mind is the cowl neckline. The draping fabric will lie elegantly on your bust.
26 Fleur draped crepe top
The cowl neckline must might be one most flattering necklines for all sizes. This Emilia Wickstead top option has an extra elegant touch. 
27 Cowl-neck jersey dress
Save the Versace dress, for that va va voom moment. 
28 Sakura Silk Cowl-Neck Top
A top that can can easily be transitioned from day to night. 
29 Go for a V-Neckline
A V-neck cut is always flattering as it hits your chest at just the right place.
30 Feather-trimmed wool-blend mini blazer dress
The blazer dress we all need post-pandemic. 
31 Floral-print silk-twill midi dress
The perfect spring/summer dress! 
32 Lia Dip Dye Dress
The hand dip dyed dress by Alejandra Alonso Rojas, is one I would live in all summer long. 
33 Style a Pussy Bow Blouse
A high-neck pussy bow blouse makes for a flattering cut to style with high-waist pants or a skirt—especially for those moments when you want to hide your cleavage.
34 Doriane belted tie-neck polka-dot silk-crepe midi dress
Polka dot are always a good idea.  Try a pussy bow options for a concealed cleavage. 
35 Vlychos leather-strap silk-voile blouse
For an alternative option to the pussy blouse, try this Gabriela Hearst chic leather strap option.  
36 Pussy-bow floral-print crepe blouse
Make a statement without showing cleavage. 
37 Grab a Squared-Scoop Neckline
A squared-scoop neckline will instantly sculpt your frame.
38 Colombo Smocked Cotton Peplum Top
To get that prairie look without the added volume try this smocked square neck top. 
39 Dido Square Neck Ribbed Dress
You can't get wrong with a ribbed dress and squared neckline, perfect to accentuate your waist. 
40 Emalyn belted stretch-crepe top
Perfect for your business zoom calls.  
41 Indulge in a Silky Fabric
Silky fabrics in tops and dresses alike are always flattering. They drape nicely without adding any bulkiness.
42 Ruched satin dress
Romantic and flattering, perfect for a date night in. 
43 Satin shirt dress
Dress it up or dress it down, this sleek look will make you feel confident. 
44 Slashed plunge-neck satin suit jacket
Try the silk jacket both with and without slip top. 
This content is created and maintained by a third party, and imported onto this page to help users provide their email addresses. You may be able to find more information about this and similar content at piano.io