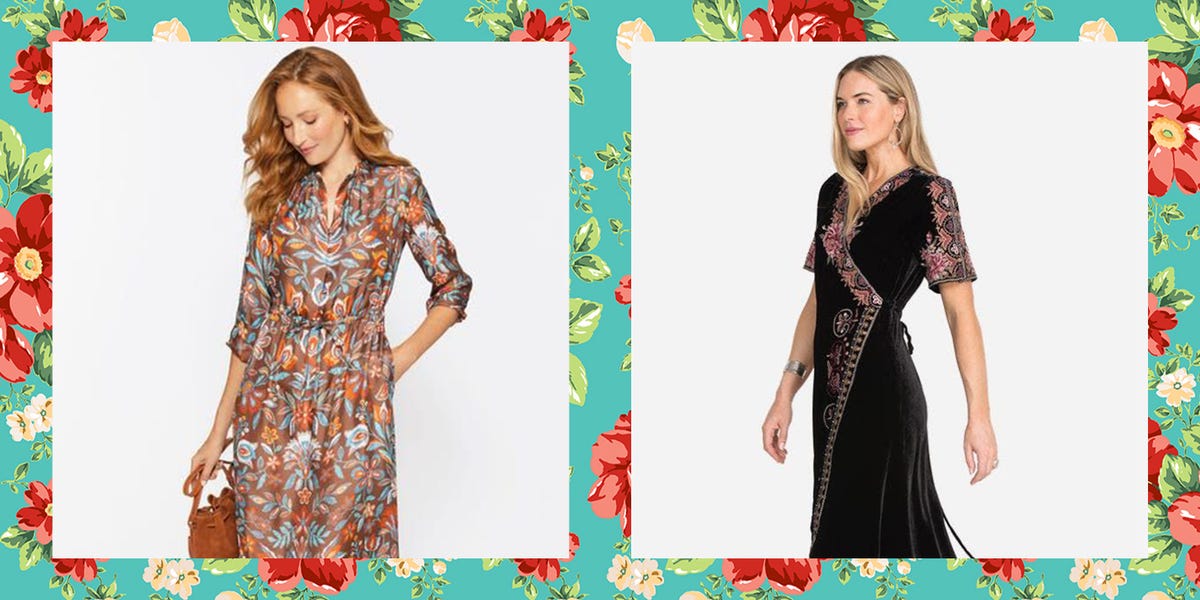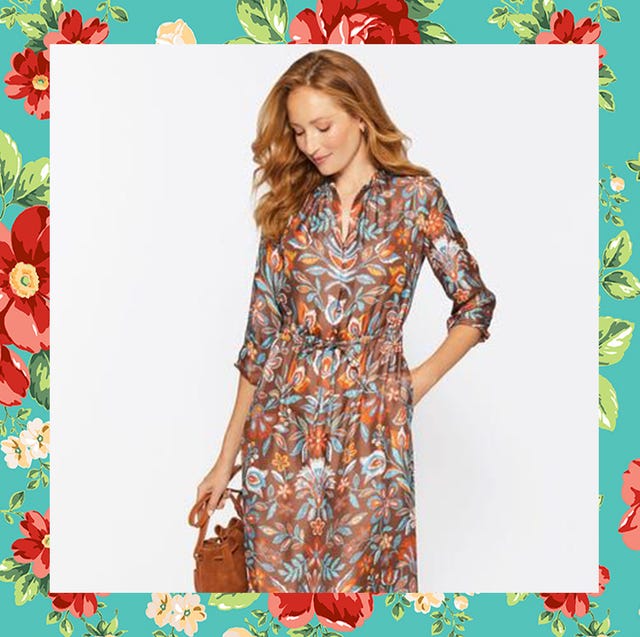 J. McLaughlin/Johnny Was
After more than a year of rocking sweats, comfy leggings, and, in Ree's words, "pandemic pants" (that's stretchy leggings to you!), it's time to get a little dressy. Sure, elastic waistbands are great, and you definitely don't have to ditch them anytime soon. But there's lots of other options for looking stylish and still feeling comfortable during the Thanksgiving feast. For example, a cute oversized sweater, a flowy dress, or a swingy skirt are all perfect options for the holiday.
Here, find over two dozen Thanksgiving outfit ideas that'll work beautifully no matter what your plans are for the holiday. Whether you're attending a formal family gathering, hosting a more casual Friendsgiving, or going out to eat (yes, lots of restaurants are open on Thanksgiving!), you'll find something here to wear proudly. We've got blouses, dresses, and even a cute "ugly Thanksgiving sweater" you'll want to check out. No matter your style, the key to the perfect Thanksgiving get-up is comfort. No one wants to sit through dinner in too-tight clothing that distracts them from the festivities at hand! Bring on the flowy, stretchy fabrics—and bring on the seconds.
1 of 27
COzy + Comfortable
Stripe Belted Turtleneck Sweater Dress
Dress this belted turtleneck sweater up with boots and jacket, or pare it down with flats. Whichever you choose, its the perfect ensemble for the holiday.
2 of 27
Under $250
Bell-Sleeved Silk Mini Dress
Have a very fashionable Thanksgiving with this floral-patterned silk dress. It also features bell sleeves and an adjustable back bow tie.
3 of 27
17,000+ Reviews
Printed Wrap Dress
Short butterfly sleeves and the dreamiest paisley print make this burnt orange number a must-have. Add a pair of cowgirl boots or heels—either way, you'll make a statement!
4 of 27
Under $150
Turtleneck Sweater Dress
A turtleneck dress? Consider us in love! This one's as warm as it looks, made with thick, fall-ready fabric.
5 of 27
Prettiest Pattern
Liberty Silk Dress
The print on this dress is inspired by "the spice markets of Morocco," according to the retailer. The result? The perfect mix of deep, rich hues for fall.
6 of 27
Worthwhile Splurge
Velvet Wrap Dress
There's something undeniably autumnal about velvet. This luxurious wrap dress features on-trend details, floral embroidery, and a fluttery silhouette.
7 of 27
Casual & Funny
Ugly Thanksgiving Sweater
Who says ugly sweaters are only for Christmas? This hilarious find makes the case for wearing them to Thanksgiving dinner, too—at least if you're headed to a casual family gathering. It reads: "Leftovers are for quitters." 
8 of 27
700+ Reviews
Floral Print Flowy Chiffon Dress
How perfect is this color for Thanksgiving? Add a pair of strappy sandals to elevate it from "daytime casual" to "evening elegant."
9 of 27
Most Comfortable
Loose T-Shirt Dress
Long fitted sleeves give this otherwise relaxed outfit a seriously glamorous feel. And stretchy fabric is always a good idea on Thanksgiving.
10 of 27
1,000+ Reviews
Corduroy Button-Down Overalls Dress
A button-front closure and a perfect-for-fall color make this dress an obvious choice. Wear a white turtleneck underneath to add some warmth.
11 of 27
Textured & Bohemian
Elbow-Sleeve Smocked Midi Dress
There's a reason this stretchy dress is a bestseller: The smocked bodice is incredibly forgiving, the shape is equal parts classic and modern, and yes, there are pockets! 
12 of 27
Perfect for the Season
Flowy Navy Maxi Dress
An all-over floral print and an extra-long length makes this dress suitable for all winter events.
13 of 27
Dramatic & Fun
Floral Mini Dress
Vibrant floral prints pair beautifully with the dark background of this '70s-inspired dress. Add a pair of seasonal knee-high boots for extra drama.
14 of 27
Best Swing Dress
Ruffle Polka-Dot Pocket Dress
Fun details like ruffles are a great way to get festive. This dress also offers a lot of movement for those who don't want to go for anything too formfitting. 
15 of 27
Best Tiered Dress
Houndstooth Tunic Dress
This tired silhouette is cute, sure, but more importantly, it's roomy! Plus the plaid-meets-houndstooth print is perfect for fall. 
16 of 27
Splurge Pick
Hutch Geo Wrap Maxi Dress
This maxi dress is stunning. The wrap silhouette creates a flattering waistline without squeezing your midsection or hugging your body too tightly.
17 of 27
Under $20
Embroidered Bell Sleeve Dress
You don't have to break the bank to look fashionable on Thanksgiving. The flowy sleeves and touches of embroidery make this dress a definite winner.
18 of 27
Cute Print
Maeve Colette Cropped Wide-Leg Pants
It's probably best to leave behind the skinny jeans on Thanksgiving and opt for a pair of pants with a little more movement. These wide-leg trousers can be dressed up or down depending on your Thanksgiving plans. 
19 of 27
Best Oversized Sweater Dress
Oversized Loose-Fit Sweater Dress
A sweater dress is the ultimate fall clothing staple. Go for an oversized silhouette and cute booties for a stylish yet comfy Thanksgiving outfit. Extra points if you buy it in this pumpkin colorway!  
20 of 27
Comfiest Pullover
Seagrove Pullover Sweater
Add a little joie de vivre to your Thanksgiving celebrations with some French-inspired stripes. Take a page from the model's styling and pair this cozy pullover with tie-waist joggers to make them look instantly polished.
21 of 27
Fun Animal Prints
Leopard Print Long-Sleeved Sweater
Take a walk on the wild side with an unconventional animal print. The army green color of this oversized, tunic-style sweater goes with anything.
22 of 27
Elastic Waist
Textured Culotte Pants
These textured culottes are the ideal blend of fashion and post-dinner function! You'll surely be thankful for the elastic waist on this modern, sleek pair. 
23 of 27
Pop of Color
V-Neck Sweater
You'll definitely bring some sunshine to fall festivities with this yellow sweater. Even though it has a relaxed, slightly boxy silhouette, you can still dress it up.  
24 of 27
'90s Look
The Way-High Jean Skirt – Washed Charcoal
If you haven't heard, '90s fashion is back in action! Pair this denim mini with a long sleeve top and maybe even some tights depending on the temperature. 
25 of 27
Best Casual Dress
3/4 Sleeve Boatneck Swing Dress
Go comfy and casual with a striped boatneck dress. You can even add a fun touch with a bright pair of flats! 
26 of 27
Good Pair of Jeans
Balloon Jeans in Corson Wash
You don't have to ditch your jeans altogether on Thanksgiving. Go for a fit with some extra room like these balloon jeans, which are slightly looser in the thighs then taper down by the ankle.  
27 of 27
Best Denim Dress
Denim Shirt Dress
Or, get your denim fix with a fun dress. This one is shaped like an oversize button-down, complete with a slightly curved hem.  
Advertisement – Continue Reading Below
This content is created and maintained by a third party, and imported onto this page to help users provide their email addresses. You may be able to find more information about this and similar content at piano.io