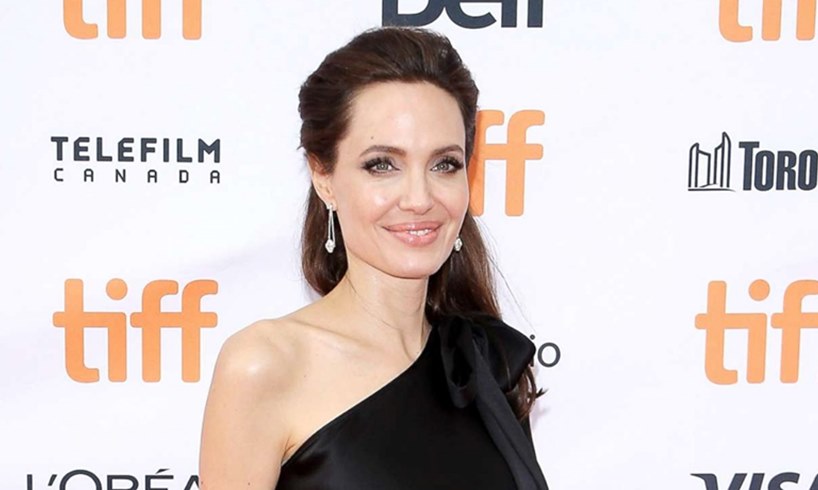 Angelina Jolie keeps it classy wherever she goes, and it seems that her incredibly tall daughter, Vivienne Marcheline Jolie-Pitt, is keeping up with the latest trends.
Over the weekend, the mother and daughter duo was spotted as they busied around Los Angeles to run a few errands.
Enjoying the cool California weather, Jolie opted for a long black dress that included an interesting pocket-like shape on the top front.
Angelina Jolie completed the look with her hair cascading on her shoulders, a pair of gold earrings, and nude sandals.
With the ongoing pandemic, the actress wore a black facial mask.
As for Brad Pitt's 12-year-old daughter, she kept it casual and trendy in a pair of high-waisted black jean shorts and a white T-shirt that featured a giant bouquet of flowers.
Vivienne Jolie-Pitt donned a pair of white sneakers and a facial mask. The humanitarian and her child were spotted picking items for their adorable animals at Petco.
They were later seen at a newsstand, where Angelina Jolie purchased a large book for her daughter.
Jolie, who is promoting her new movie, Those Who Wish Me Dead, did several interviews where she talked about her career and personal life.
Earlier this week, Jolie opened up like never before about her personal life, revealing how her children — Maddox, 19, Pax, 17, Zahara, 16, Shiloh, 14, and Vivienne's twin brother, Knox — make her feel special.
She also explained that her lengthy and bitter divorce from Brad Pitt has left her broken.
The Oscar-winning actress shared her Mother's Day plans by saying that she will probably cry because her children will join forces to make sure she has a special day complete with lots of love and gifts.
The acting giant also revealed this week the most important lesson she learned from her late mother, Marcheline Bertrand, when it comes to motherhood. For Jolie, it is all about warmth and tenderness.
Jolie might be tough on other people, but she is always sweet when it comes to her children.
Angelina Jolie also confessed that she does not feel great about her life all the time.
She revealed that whenever things get tough, and life's circumstances kick her to the ground, she tries not to stay down.
Jolie revealed: "I felt a little beaten up in my own life, as we all do at times, and I felt like I wasn't holding myself together, and I felt a little broken and the idea of just getting through the fire — just getting through the damn fire."
In the fall of 2016, Angelina Jolie filed for divorce from Brad Pitt after 11 years of being together amid reports that a brutal fight between the actor and his oldest son, Maddox, took place on a plane.
Fast forward to 2021 — the divorce has yet to be finalized, the former couple is still fighting in court over custody arrangements and assets.
There have been numerous embarrassing media leaks from both camps. Some Jolie fans are a bit worried because the actress is rarely seen smiling in new photos, but she seems to love her children.
Related
Conversations